Bespoke Funerals in Garstang
Posted on by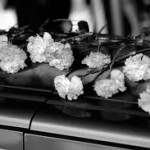 Bespoke funerals in Garstang can greatly assist in the grieving process. The death of a close friend or family member is a shock, regardless if the death was sudden or expected. In the aftermath of the shock, a funeral service will need to be planned for the deceased. While you may not feel capable of planning a funeral service, the planning process and the funeral service itself can help you begin to come to terms with the loss. If you are worried about the planning of the funeral service, speak to Clifford Ward. We are an experienced dedicated and compassionate team, and will assist you in planning a respectful and dignified funeral service for the deceased.
A funeral service does not have to be a religious funeral. In Garstang, bespoke funerals can be planned to meet the requirements of the deceased or his family. If the deceased was not a religious person, a non religious funeral can be arranged to reflect his beliefs and wishes. He may have left instructions for the type of funeral he would prefer. Our funeral directors can help you every step of the way to plan a bespoke and respectful funeral. We offer independent advice and also allow you the time to consider your options. We understand how important it is to you and the family to plan a funeral that meets the wishes of the deceased. We can assist with flowers, different types of music, and we can put you in contact with monumental masons should you require.
Bespoke funerals in Garstang are carefully and compassionately planned. If you need assistance with the planning of a bespoke funeral for your lost loved one, contact Clifford Ward. We provide a full and comprehensive range of funeral services, including non religious and traditional, so please speak to us for more information or if you have any questions. Our compassionate funeral directors will assist you in planning a dignified and appropriate funeral service for your lost family member.