Professional and Compassionate Assistance with Funeral Arrangements in Penwortham
Posted on by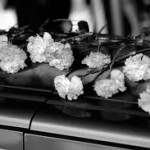 If you need to make funeral arrangements in Penwortham, our funeral directors are available to assist. It is a sad and unsettling time when you have to plan a funeral for a lost loved one. Not only is the news of the passing devastating, but having to plan your loved one's funeral can be emotionally overwhelming. There are a number of aspects that are a part of funeral arrangements. At a time when you feel that the arrangements are overwhelming, you can rely on our guidance and assistance. A funeral is an important part of the grieving process where it allows friends and family to pay their last respects, and importantly, to support one another.
Speak to our funeral directors if you need to prepare a funeral for a lost loved one. In Penwortham, funeral arrangements include aspects such as the type of coffin, where to hold the service, whether there will be floral tributes and music, and other as important arrangements. This is where we can provide assistance and advice, so that you can make an informed decision. We commit ourselves to helping our families, and regardless of the size or type of funeral, you can rely on our dedication and care. We know that at this devastating time in your life, even the smallest decisions seem like the biggest you'll have to face.
Funeral arrangements in Penwortham for a bespoke funeral service that will both meet and exceed your expectations. When you need the guidance and assistance of a compassionate funeral director for help with funeral arrangements, contact Clifford Ward. We are an independent funeral director with many years of experience in helping families plan a funeral for their lost loved ones. Our experienced funeral directors will provide a caring and personal service. Every funeral is bespoke, and we listen to your wishes to ensure that it is meaningful and personal. As a family run company, we are committed to traditional family values. When you have the assistance and support of our funeral director at a sad time, you can trust that you are with people who truly care.